Step Back in Time
On the 2nd Sunday of May, June, July, and August, visitors to the Richfield
Historical Park took a Step Back in Time. In the historic buildings -- Messer/Mayer Mill, Mill House, and Lillicrapp Welcome Center -- engaging hands-on activities such as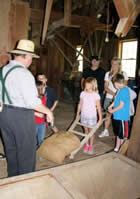 washing clothes, hanging them on the line to dry, grinding coffee, hauling grain, using a flat iron to press clothes, finding out how wheat was made into flour, pump water and playing "What's That Sound?"
were enjoyed.
These events, sponsored by the Richfield Historical Society, gave an opportunity to explore the lovely Park as well as learn about day-to-day tasks from long ago. Samples of cider were an added touch.
This was the first year that the Society held these scheduled times to visit the Park. Plans are to repeat this in 2018.
All of the buildings in the Richfield Historical Park are open during the Society's events.
Thank you to everyone who attended and the volunteers.