Richfield Art at the Mill
July 22, 2017
What went on at the 9th Annual Richfield Art at the Mill held at the lovely Richfield Historical Park? This was an art and fine craft fair and much more - live music, tours of historic buildings, tasty food.
70+ talented artists and vendors proudly displayed their works and wares. You could find handmade ukuleles, carved birds, whimsical garden art, intriguing paintings, unique clothing -- just
to name a few items displayed in the artists' tents. Samples of nuts, fudge, jam/jelly, and butter enticed visitors to the vendors' tents. Even your pet could have gotten a homemade treat.
Two "Firsts" for this year's event: wonderful food supplied by Richfield's own La Cabaña Mexican Grill -- burritos, tacos, loaded fries to satisfy your south-of-the-border craving. But, you could still get a burger or pulled pork sandwich.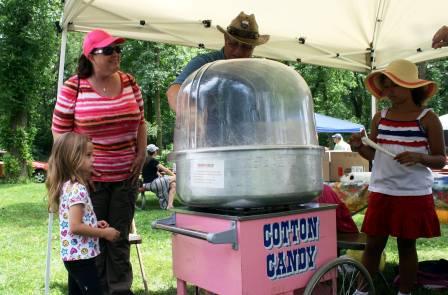 The 2nd "First" was the Society's very own maple cotton candy. This was popular with both adults and kids -- a real treat.
Two talented guitarists, Cheryl Kuhaupt and Nancy Schultz, entertained the morning crowd with their soothing, memorable music. In the afternoon, the well-known Eric Schoor Jazz Trio, held the attention of those sitting to relax.
Most of the artists and vendors provided an item for the Silent Auction for
which the Society is very grateful. A high bid would get you a treasure for your home or as a gift for someone special.
The tours of historic buildings in the park are always an added amenity to the fair. The Lillicrapp Welcome Center with its general store display and photography collection was enjoyable.
The Mill House showed how life was long ago (with no running water)
while the guides told about the lives of the
families who lived in the house. The Messer/Mayer Mill, with all of its original equipment, gave a lesson on grinding grain into flour.
The proceeds from Richfield Art at the Mill will go toward Richfield Historical Society projects, in particular the restoration of the Messer/Mayer Mill foundation and Getting the Mill Grinding.
Thank you to all of the exhibitors, attendees, and volunteers who made 2017 Art at the Mill a success.
Review of Exhibitors Works & Wares for 2017
Mark Your Calendar for Art at the Mill on July 28, 2018