Maple Syrup Family Day
March 25, 2017
Damp, chilly weather didn't deter well over 100 people from enjoying the annual Maple Syrup Family Day. They came to learn how trees are tapped, sap collected, and then boiled down to make delicious maple syrup. 
Demonstrations explained how this process is done now and how it was done long ago.
The wood burning sap evaporator was bubbling, filling the sugar shack with steam. Did you know it takes 40 gallons of sap to make one gallon of syrup?  It wasn't long before all the syrup that has been produced and bottled this season was sold out. 
Using the newly built blacksmith shop as a 'restaurant', hot dogs were served along with hot chocolate and coffee -- anything to warm your insides. Lots of homemade goodies topped off the meal. A new treat was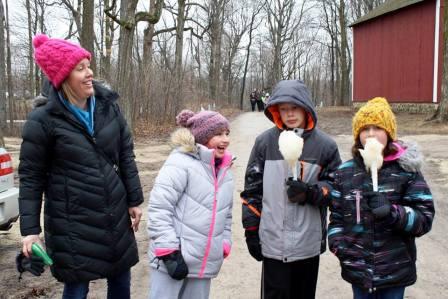 maple cotton candy -- very popular among the attendees.
Once again, an RHS friend, Laverne Schmidt, brought along many of his artifacts. You could try your hand at using a corn sheller, turn the crank to shred corn stalks, or use a fanning mill. Did you know that a fanning mill separated the weed seeds from the oat seeds?
All the historic buildings located in the Richfield Historical Park were open. The log buildings on the south end and the Messer/Mayer Mill, Mill House, and Lillicrapp Welcome Center on the north end. Attendees enjoyed a people mover ride from the sugaring area to these buildings.
Stories from long ago were told in the Motz Log Cabin.
Inside the Mill House, you could see how families lived before the advent of running water.
The Mill, of course, is always an adventure as you learn how wheat was turned into flour. The Lillicrapp Welcome Center featured the interesting general store display and photography depicting long-ago days in Richfield.
Testimonial from an Attendee:
We (8 of us) had a wonderful day learning about Maple Syrup and exploring the historical sites. The Maple Cotton Candy was a special treat and of course we bought syrup, hotdogs, and cookies. We stayed about 3 hours. Thank You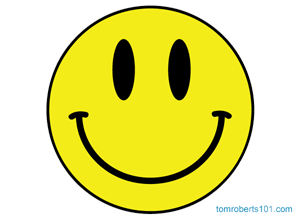 Susan (from Jackson, Milwaukee, & 2 exchange students from Germany)
A big Thank You goes to all who attended and the Richfield Historical Society volunteers who made this event happen. Another great family event at the Richfield Historical Park. Mark your calendars for this event in 2018 -- it always happens around the end of March.