2018 Annual Plant Sale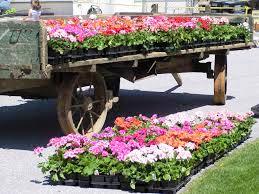 The Richfield Historical Society is sponsoring its annual Plant Fundraising event made possible through the Sunny Point Gardens. As plants grow and bloom, they bring happiness to your home or just brighten someone's day.
When placing your orders, remember those special occasions like: Mother's Day, Birthdays, Anniversaries, Thank You and Get Well wishes and don't forget to brighten up your own yard. Also, a great way to get your children and grandchildren interested in gardening.
How to Place Your Order:
Gift Certificates will be available in $15 and $25 amounts. Order any quantity. Gift Certificates can be used for any plants and/or plant supplies at Faust Greenhaus and Nehm's Greenhouse (Not Nehm's Floral).
Print the form and fill in your Name, Address, Phone #, E-mail and the Quantity. Calculate the Grand Total.
Mail your order form and check to: Richfield Historical Society, PO Box 268, Richfield, WI 53076.
Please mail before May 1, 2018.
Gift Certificates for $15 and/or $25 will be mailed to you.
Note: Gift Certificates Must Be Used By May 31, 2018.
For questions about the RHS Plant Sale, call Sharon at 262-297-1546.
Every Gift Certificate will help restore the Messer/Mayer Mill and other RHS projects. The Messer/Mayer Mill is located in the Richfield Historical Park at 4399 Pleasant Hill Road,Richfield. Share this opportunity to support RHS with your friends.
Gift Certificates are to be used at these two locations:
Faust Greenhaus, 4729 Pleasant Hill Rd., Richfield, WI 53076
Nehm's Greenhouse (Not Nehm's Floral), 3639 Hwy 175, Slinger, WI 53086 Phone: 262-644-5688.
Plants grown by Sunny Point Gardens.