Lillicrapp Welcome Center
How could a house ever be called the Lillicrapp Welcome Center? Well, Richard Lillicrap was the person who built this lovely Greek Revival home in the 1860s on Amy Belle Lake (formerly known as Lillicrapp Lake.) A brief look at the history of the home tells you that the Lillicrapp family owned it until 1886. At that time, the Hadfield family from Waukesha purchased the home and lived there until 1893. The home had several residents from then until 2007 – Kufahls, Sargeants, Kindems, and finally Carolyn Korona.
In 2007, Carolyn Korona decided to build a new home on the Lillicrapp property and graciously donated the home to the Richfield Historical Society. With much preparation, the home was moved from Amy Belle Lake to the Richfield Historical Park – a little over 7 miles to the north.
Since the move, much work has been done on the house: new roof, siding,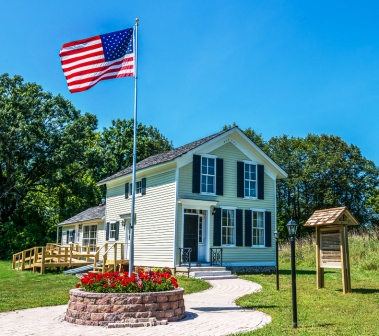 handicapp ramp, shutters, inside restoration and landscaping. There is a lovely patio area where recognition bricks are located for donors to the Messer/Mayer Mill Restoration Fund ($500 or more).
This building is the Lillicrapp Welcome Center for the Richfield Historical Park – the first stop for tours. There may be a Research Center there at some time in the future. It currently has a display about Richfield's lakes and barns; the front parlor has a general store look and feel -- takes you back in time. The curator of this general store is always looking for donations to add to the collection of items. Click here for the Wish List. An extensive display of photography shows Richfield and the surrounding area as it was long ago. Tied in with the photographs is an extensive collection of cameras. Stop by and visit the Lillicrapp Welcome Center when it is open during the Richfield Historical Society's Events or when you take a tour.