Tours of Richfield Historical Park
The Richfield Historical Society conducts tours of the historic buildings within the Richfield Historical Park (Richfield's hidden gem).
Messer/Mayer Mill -- Learn how flour was made with original equipment manufactured by E. P. Allis, the forerunner of Allis Chalmers.
Mill House -- See the toys the miller's children played with, learn about the 'summer kitchen', chamber pots and children's chores in the good ole days, view many furnishings original to the Mill House.
Lillicrapp Welcome Center -- Wander through this restored Greek Revival Home with a very interesting General Store exhibit, camera display, and a wonderful collection of photography of Richfield and surrounding areas from long ago days. Handicapp accessibility.
Pioneer Homestead -- Be amazed by the displays in the Motz Log Cabin. See how butter was made and clothes were washed using a machine unlike the type used today. Visit the Messer Log Barn to see the implements of yesterday. Men had to be rugged back then to use the hand plows, potato planters and corn shellers on display.
All of this, plus more, is available on a tour of the historic buildings at the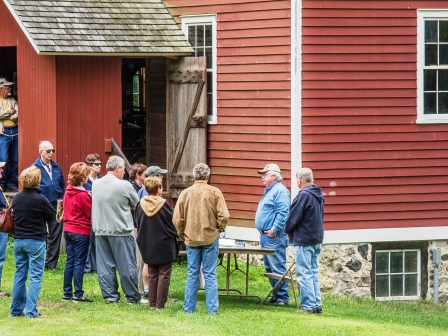 Richfield Historical Park. Scheduled tours are available May through August (see dates/times below). Park buildings are open during Richfield Historical Society's events. Personal tours and group tours can also be scheduled between May 1 and November 1. Individuals, families, school groups, motor coaches and all other types of groups are welcome. Call Kathy at 262-628-0252.
May 13, June 10, July 8, August 12, 2018
Hours: 1pm to 4pm
Step Back in Time and find out how day-to-day duties were done long ago. Take a tour of historic buildings in the Richfield Historical Park and have fun with activities for all ages. Just a few of the activities are Grind Coffee, Haul Grain, Play "What's That Sound?", Ring a Dinner Bell and Wash Clothes plus many more fun things to do and see. Be sure to come early enough to visit all three buildings. Refreshments available for sale.
Note: Pioneer Homestead not open on these dates
Tour Rates:
$5 per person; Children 5 and Under, Free
For Tours, use the Park entrance at 4399 Pleasant Hill Road, Richfield, WI 53076.
Other Times to Visit:
Open during Richfield Historical Society Events
By appointment (May 1 to Nov. 1) ~ Call 262-628-0252
Note: The Lillicrapp Welcome Center is the only building with handicapp accessibility.
Testimonial: "We were amazed at the excellent restoration of the house, the extensive information given us by the docents (and their enthusiasm), and the number of items you had accumulated that were original to the house! The grist mill also surprised us at its completeness and condition. The docent has so much knowledge!...Our drive out past the log buildings really topped off our wonderful day."
Walking Trails: The Park is open from 7am to 10:30pm seven days a week and all are welcome to enjoy a variety of walking trails throughout the park – from flat to steep and short to long, nature is waiting to be discovered. A beautiful creek meanders through the park, and benches allow you to stop and rest along the way.
2018 Events
Park Buildings are Open for Tours:
Step Back in Time - May 13, June 10, July 8, August 12
Richfield Art at the Mill - Saturday, July 28, 2018
20th Annual Thresheree & Harvest Festival- Saturday, Sept. 15 & Sunday, Sept. 16