Make A Gift to the Messer/Mayer Mill Restoration Fund
The Messer/Mayer Mill is one of the few remaining timber-frame grist (grain) mills in the Midwest that is still intact and on its original site. And, rarer still, it has all its original equipment in place just as it was on its last day of operation more than 60 years ago.
We Need Your Help to Get the Messer/Mayer Mill Grinding Again . . .
Make a gift: Gift Form
Etch Your Name in History by contributing $500 or more and receiving a personalized brick: Brick Form
Send your forms and check to:
Richfield Historical Society
PO Box 268
Richfield, WI 53076
OR


Make your donation online using our secure payment system.
Why Preserve the Messer/Mayer Mill . . .
The Messer/Mayer Mill is a unique structure containing three different milling technologies that utilized three different sources of power over its lifetime. The Mill is a wonderful example of nineteenth-century rural industry and literally a museum of milling history. It represents a time when wheat was the basis of Wisconsin's agriculture; a time that saw the transition from stone grinding to modern roller mills, as well as water power to electricity.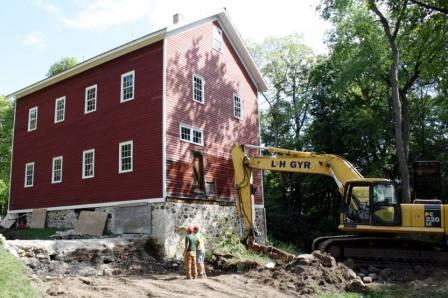 The Richfield Historical Society is raising funds to restore the Mill to make it operational; in other words "Let's Get the Mill Grinding". Once completed, the Mill will provide a working classroom giving visitors of all ages the experience of the milling process as it was done in the period from the 1870s to the 1950s. The estimated cost to complete the restoration is $300,000.
Your donation will help the volunteers of the Richfield Historical Society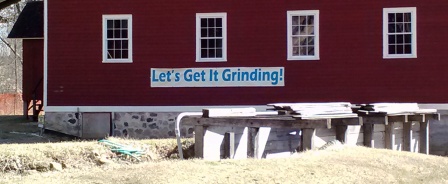 succeed with this project: "Let's Get the Mill Grinding". All funds go to the Mill restoration. The Mill is the major tourist attraction in the Village of Richfield.
What Needs to Be Done to Get the Mill Grinding. . .
Complete the restoration of the Mill's foundation (phases 1 & 2 are already done!)
Clean and rebuild the Mill's floor hopper, chute and grain elevators
Clean and rebuild the bolting (sifting) machine
Clean the storage bins and rebuild the bagging area
Realign the shafting that turns the millstones
Rebuild the engine shed
Hook up the Superior engine as the power source for the millstones
Rebuild the dam
Restore the Leffel turbine (the turbine will be used when water becomes the power source)
Rebuild the Sawmill
How Else Can You Help . . .
Share your skills/talents to save history through Volunteering
Visit the beautiful Richfield Historical Park
Attend Richfield Historical Society Events and take a tour of the Messer/Mayer Mill
Share information about the Messer/Mayer Mill with others
The Richfield Historical Society is registered as a 501(c)(3) non-profit organization. Your contribution may be tax deductible. Please consult your tax advisor.
Thank you for supporting our efforts to restore the
Messer/Mayer Mill and "Let's Get the Mill Grinding"!