Richfield Historical Society Newsletters
The Richfield Historical Society publishes an extensi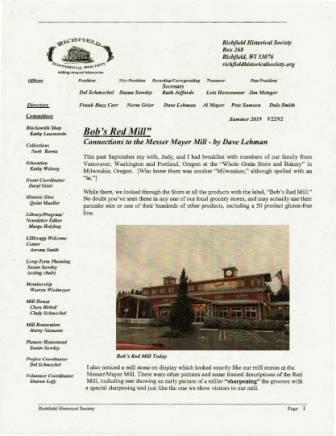 ve newsletter three times a year. This informative document has interesting articles on homestead families who lived around the Richfield area, other related topics, and the current news of the Society's activities and Events. To get the most recent edition of this newsletter and keep up to date on what is happening with the Richfield Historical Society, Become a Member now.
Current Newsletter
Winter 2019
Fall 2019
Spring 2019
Winter 2018
Fall 2018
Spring 2018
Winter 2017
Fall 2017
Spring 2017
Winter 2016
Fall 2016
Spring 2016
Winter 2015
Fall 2015
Spring 2015
Winter 2014
Fall 2014
Spring 2014
If you found information in these newsletters to be helpful when researching your community or your ancestry, you may be interested in making a donation to the Richfield Historical Society to help with its projects.
Send your check to:

Richfield Historical Society
PO Box 268
Richfield, WI 53076
Contribution Form
To donate online, click the Donate Now button using our secure payment system.