The Forgotten Mills of Nierstein
The "Fluegelsbach" is a small creek. The spring is just north of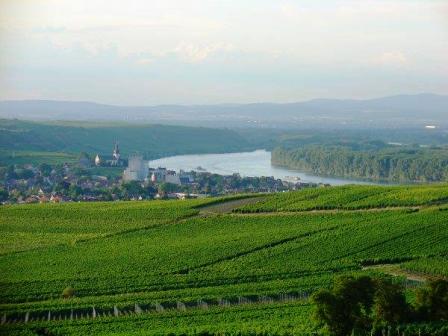 Zornheim and the water runs for about 7 miles to the Rhein (Rhine) River.  From its source it flows east, to just south of Loerzweiler, then turns south to Schwabsburg and finally east again through Nierstein.
Johann Gabriel Mayer was only 26 years old when he died on the third Monday in February of 1794. Nierstein was still part of the Holy Roman Empire, which was already fractured and about to collapse.
During the war of the first Coalition (1792-1797), the Kurpfalz (Electoral Palatinate) was about to be annexed to France and Nierstein would become part of the Kanton Oppenheim in the Department Donnersberg (Mont-Tonnerre). Most of the population took all this in stride.
Duck and goose herders were busy walking flocks along the Rhine River, picking up spilled grain. On the river were ship mills,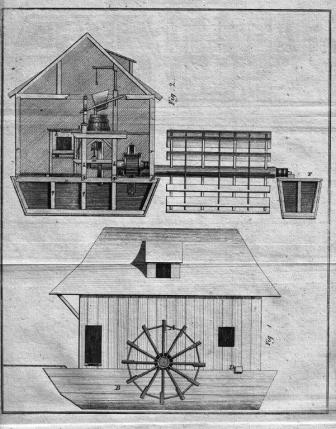 houseboats with undershot waterwheels that were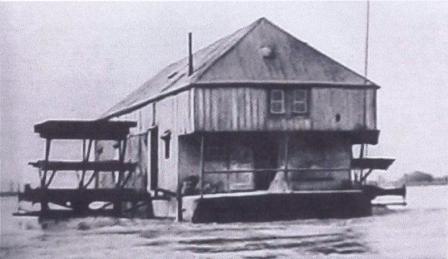 driven by the river's current. Some had outriggers supporting the wheel. All were slow, but had the advantage of grinding 24/7. Some of the millers were also bakers.
Less than a half a mile upstream along the "Fluegelsbach" was the so called "Creutzmuehle". This was the mill where Johann Gabriel and his father, Johann Carl, were born. Johann Gabriel's grandfather, Hans Georg Mayer was a miller and lived at the "Creutzmuehle". When Hans Georg's youngest son, Johann Carl, was born in 1737, he named him after his good friend Carl Strub. Later his oldest son, Leonhard, married Carl Strub's youngest daughter, Maria Magdalena. Three of their grandchildren came to Wisconsin and one to Minnesota.
Johann Gabriel had married Catharina Stauss in 1789. Catharina was the daughter of Caspar Stauss, the miller at the "Froschmuehle" at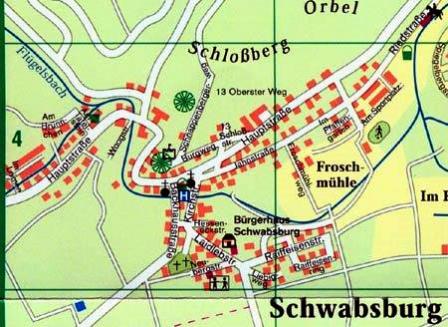 Schwabsburg. Jacob Stauss, the son of Catharina's cousin, settled at Germantown, Wisconsin, where he married Christine Kissinger in 1843. Johann Gabriel and Catharina's only child, Elisabeth Margaretha Mayer, was almost four years old when Johann Gabriel died and Catharina married the beer brewer, Johann Jacob Geil. He continued to run the mill.

Elisabeth Margaretha married Caspar Maurer, and their son Jacob settled at Richfield, Wisconsin. Caspar's grandfather's brother, Jacob, once owned the "Riedmuehle", a mill further upstream on the "Fluegelsbach".
This was the mill of Jost Peter Kessel before and belonged to Andreas Laubenheimer when Johann Gabriel Mayer died. Andreas Laubenheimer was an uncle to Johann Philipp Laubenheimer, who settled at Richfield, Wisconsin.
Catharina and Johann Jacob Geil had two children. The boy's name was Jacob, who took over the mill. Jacob had no male heirs, so he sold the "Creutzmuehle", also known as "Kreuz Muehle", to Johann Strub, a great-great-grandson of Carl Strub.
The mill was water wheel driven and located at Muehlgasse #33 on the corner of Schmiedgasse. Built in 1716, it ceased operation in 1918 and was torn down in 1962.
Hope you enjoyed this story
Enjoy our other stories