Phillip Eimermann, Mill Furnisher - Millwright - Miller
Phillip was born at Rhine, Sheboygan County, Wisconsin the 18th of September in 1858. He was a son of Kaspar Eimermann and Anna Maria Kissinger Eimermann. He married Anna Bretthauer in 1881 at Milwaukee. On May the 10th, 1895, The "Weekly Northwestern Miller" reports the following:
"Phillip Eimermann, at one time a millwright in Milwaukee has nearly completed a mill for himself at Elkhart Lake, Wis. The rolls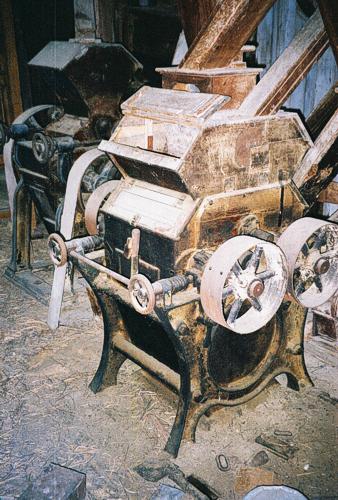 and other machinery are of the Allis system."
Phillip soon discovered that he would rather build and rebuild mills than running them. "The American Miller" was a monthly journal published at Chicago, devoted to the art and science of milling and thanks to Free Google E Book gives us some insight of what happened next.

March 1, 1907
Help Wanted
Wanted- Good reliable millwrights. Address PHILLIP EIMERMANN, Argyle, Wis.

April 1, 1907
Gets Plenty of Help
Please send my April Number of the "American Miller" to Wauwatosa, Wis., as before. You will not have to insert my ad again, as it has secured me plenty of help and I will get through here this month. From here I will go to Richfield, Wis., to put in a 35-barrel mill for C. W. Mayer.
PHILLIP EIMERMANN, Argyle, Wis.

May 1, 1907
New Allis-Chalmers Mill
I have commenced to build the mill here at Tisch Mills for Edward Schleis & Co., having been sent over by the Allis-Chalmers Company to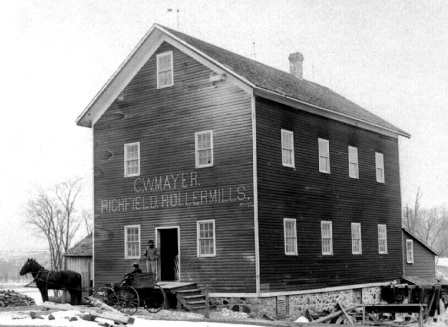 install the plant. The machinery is all furnished by the company and includes a complete wheat, rye and feed mill. I have also a contract to install the machinery for C. W Mayer of Richfield Wis., which is to be ready for the same on August 1. Also, I have an agreement with the Kiel Grain & Milling to see to the installing of a mill outfit. Enclosed find check for renewal of my subscription to the "American Miller".
PHILLIP EIMERMANN, Tisch Mills, Wis.
February 1, 1908
Has Leased a Wisconsin Mill
Inclosed please find subscription to the "American Miller". Send it to me here, as I have leased the mill at this place. My business is very good at present. I will sell a carload of flour and feed every two or three weeks. I am well pleased with the mill and location. Since having taking possession I have been remodeling the plant to grind rye and buckwheat flour. Besides operating this mill, I am still building flour mills. My correspondence is all addressed to this place.
PHILLIP EIMERMANN, Marshall, Wis.

March 1, 1922
Still In the Business
Am sending check to renew subscription to the "American Miller". I sold my mill at Marshall, Wis. and did not get your paper for a while and was lost without it. Have just returned from Juda, Wis. and now go to Montello to remodel the old mill there which has not run for two years. So you see I am still at my old millwright trade and therefore am always glad to get your "Blue Book" as there is always something new in it. Have been a reader for the last 20 years.
PH. EIMERMANN, 14 Hawley Rd., Wauwatosa, Wis.

Phillip bought the mill on the Maunesha river at Marshall, Dane County, Wisconsin in May of 1908 from James H. Porter and left the running of the mill to his wife and son Edgar and continued to travel all over Wisconsin. In 1913 the dam washed out and he rebuilt it. When the dam washed out for the second time, he could not swing it financially and in April of 1920 he announced his retirement and claimed old age as the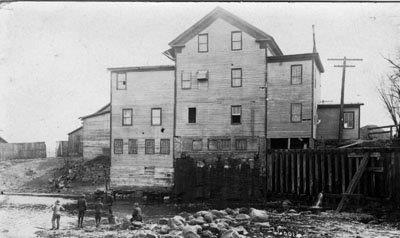 cause. In July of 1921 he sold the mill to the Blaschka brothers. The four brothers diverted the water through flumes while rebuilding the dam with shovels and the help of horses.
Phillip and Anna both passed away in 1939 and are buried at Medina Cemetery at Marshall, Dane County, Wisconsin.

Note: The picture is a 1920 postcard and shows the backside of the Blaschka Mill at Marshall. Credits go to "The Courier", newspaper in Waterloo, Wis. This mill is still grinding grain.
Hope you enjoyed this story
Enjoy our other stories