Milwaukee County Zoo
Display of Farm Equipment
October 4, 2012
The Richfield Historical Society is now part of the Milwaukee County Zoo!
On Thursday, October 4, about 20 members of the Richfield Historical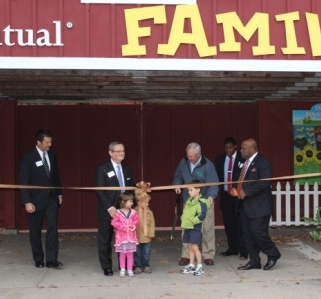 Society attended the Ribbon Cutting Ceremony of the new display to the entrance of the Northwestern Mutual Family Farm at the Zoo. The Society was the sole donor of all of the antique farming equipment which comprises this display. The following horse-drawn artifacts were donated: dump rake, excavating scoop, plow, cultivator and sickle mower. Small tools and implements were also donated by RHS and will be put on display in the future. A very attractive plaque states these donations were made by the Richfield Historical Society located in the Village of Richfield, Washington County. Also, the historic gristmill is mentioned with its location being the Richfield Historical Park. This partnership with the Zoo has provided a great means to promote the Park, Village of Richfield, Washington County and the Society.
Thank You to everyone who made this project happen.