Upcoming Events
Thursday, October 26, 2017
"Hensler Petroglyphs"

What in the world are petroglyphs? Petroglyphs are images created by removing part of a rock surface by incising, picking, carving, or abrading, as a form of rock art. Right in Dodge County (WI), there is an ancient petroglyph site called the Hensler Petroglyphs. Dale Van Holten, an expert on this site, will share his knowledge of these amazing archeological finds....Read More 
Christmas at Richfield Historical Park
December 2, 2017
Visit the Richfield Historical Park
and enjoy an old-fashioned celebration. Bring back memories of a wood-burning stove, Christmas tree with a pickle; taste delicious homemade goodies; sing along with Christmas carols....Read More

Antiques, Appraisal and Chili Lunch
Sunday, February 18, 2018
Call for Antique Dealers

This event will be offering more than appraisals and a delicious chili lunch in 2018. Antique dealers are invited to display and sell their antiques. A new location will provide more exhibit space. Click on Guidelines and Layout to learn what is expected and which booths are still available. Then, click on the Registration Form. Print, fill in the information and send it to the address listed on the form along with your booth fee.
Antique Dealer Guidelines
Antique Dealer Registration Form
Antique Dealer Layout

Maple Syrup Family Day
Saturday, March 24, 2018

Richfield Art at the Mill
Saturday, July 28, 2018
20th Annual Thresheree
Sat., Sept. 15 & Sun., Sept. 16

Learn about Richfield Historical Park Tours

RHS in Action
Messer/Mayer Mill Foundation Being Restored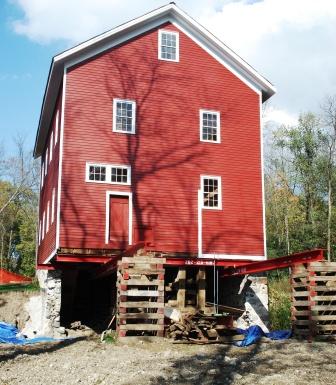 By the end of 2017, the Messer/Mayer Mill will once again have a solid foundation. That will pave the way to "Get the Mill Grinding" -- the goal of the Richfield Historical Society. Way back in 2008, a friend of the Richfield Historical Society, Ivan Laubenheimer, left $100,000 to the Society....Read More
Another Successful RHS Thresheree
Throngs of people walked or rode
along the pathways in the Richfield Historical Park to the Exhibit or Threshing areas. What did they see? Steam engines powering the old threshing machines; shingle making; small engines putt-putting....Read More
Unique Model of Messer/Mayer Mill at Richfield Village Hall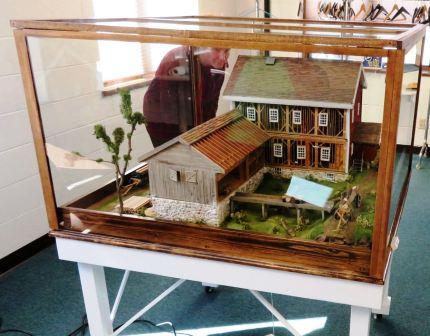 In September, Joe Rinker presented his 3/8 scale model of the Messer/Mayer sawmill, circa 1857, and gristmill, circa 1870, to the RHS. The unique model is now on display at the Richfield Village Hall. The RHS has completed extensive restoration work on the real grist mill in Richfield Historical Park, but the sawmill no longer exists. The model took Mr. Rinker 750 hours in over 4-year period to build this intricate model.
Blacksmith Shop is Finished
The blacksmith shop at the Richfield Historical Park is done thanks to the hard-working RHS Thursday crew. Well, a project like this is never completely finished as enhancements are always anticipated. The forge was fired up at the recent Thresheree and
'smithies' demonstrated their skills...Read More
What Was Farming Like at the Turn of the Century?
A team of RHS volunteers is
talking with many folks who were from farming families 'back in the day'. These persons are sharing their stories--otherwise this valuable history would be lost....Read More
Past Features of RHS in Action