Upcoming Events
"Wisconsin's Most Haunted Places"
Thursday, September 28, 2017
From phantom creatures prowling
the woods to graveyard apparitions located in your own backyard, no place is without its own haunting. Chad Lewis will take you on a ghostly journey to some of the most haunted places in Wisconsin....Read More 
Christmas at the Historical Park
December 2, 2017
Visit the Richfield Historical Park and enjoy an old-fashioned celebration. Details to follow.

Antiques, Appraisal and Chili Lunch
Sunday, February 18, 2018
Call for Antique Dealers

This event will be offering more than appraisals and a delicious chili lunch in 2018. Antique dealers are invited to display and sell their antiques. A new location will provide more exhibit space. Click on Guidelines to learn what is expected. Then, click on the Registration Form. Print, fill in the information and send it to the address listed on the form along with your booth fee.
Antique Dealer Guidelines
Antique Dealer Registration Form
Antique Dealer Layout

Learn about Richfield Historical Park Tours

RHS in Action
Messer/Mayer Mill Getting a Fresh Coat of Paint
The Messer/Mayer Mill was purchased by the Village of Richfield in 1998. The siding was replaced in 2004 by the Richfield Historical Society. Therefore, the paint is 13 years
old. Time for a fresh coat (paid for by the Society). The Mill will look bright and attractive for the upcoming Thresheree on September 16 & 17.
Making the Richfield Historical Park Safer for Walkers
When the Richfield Historical Society has events, there are always people movers traveling from the parking lot to the main area of the Park. Attendees like to walk along the road which is a great way to explore the Park. However, at times it can be hazardous. To make it safer for walkers, pathways are being constructed along some areas of the road to allow walkers and the people mover to share the road safely.
Did You Take a Step Back in Time at the Richfield Historical Park?
On the 2nd Sunday of May through August, visitors had fun doing the daily chores from long ago....Read More
Great Progress on the Blacksmith Shop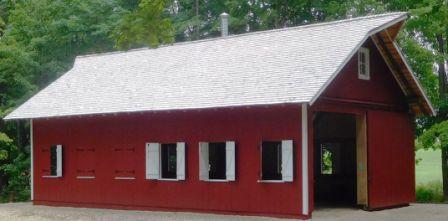 The blacksmith shop at the Richfield Historical Park has that finished look with the siding being painted a traditional red. The shutters and doors are all in place.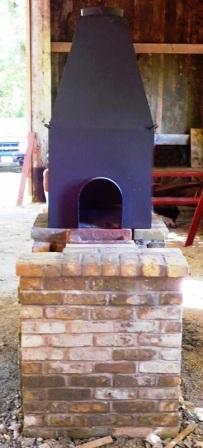 The forge has been installed and chimney is in place. You can help get this new venue completed as well as have your name on a horseshoe in the shop...Read More
What Was Farming Like at the Turn of the Century?
A team of RHS volunteers is
talking with many folks who were from farming families 'back in the day'. These persons are sharing their stories--otherwise this valuable history would be lost....Read More
Get the Mill Grinding
Donors to Messer/Mayer Mill Fund can etch their names in
history. The Fund to restore the Messer/Mayer Mill is growing. Much of this growth is due to those persons whose donations entitle them to a recognition brick....Read More
Past Features of RHS in Action