RHS in Action
First Luminary Walk a Success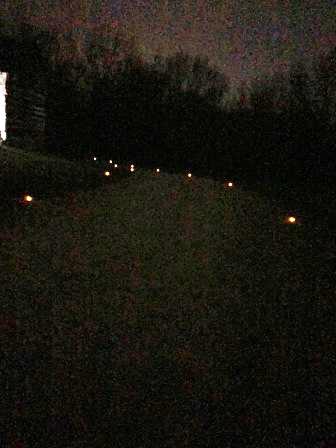 Strolling the illuminated trails in the Richfield Historical/Nature Park, gathering around a bonfire, enjoying a cup of hot apple cider, sampling maple cotton candy--these were the activities enjoyed by the attendees of the Richfield Historical Society's first Luminary Walk....Read More
*****
Thank You to All RHS Volunteers
The Annual Volunteer Appreciation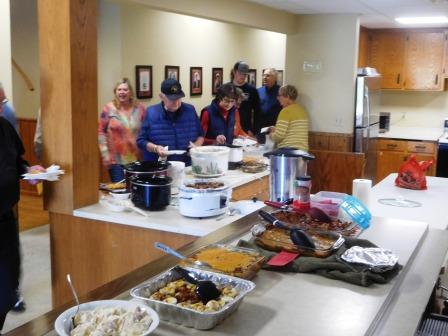 Potluck was enjoyed on October 29 by many people who helped make RHS events/activities a success by volunteering. With the great variety of delicious dishes, no one went away hungry.
*****
First Blacksmith Day/Hammer In -- Fun Time for All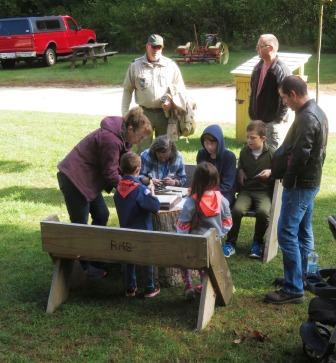 The Richfield Historical/Nature Park was filled with the sounds of the hammer on an anvil for the first Blacksmith Day/Hammer In held on October 1. Working with metal objects was a popular activity....Read More
*****
Thresheree & Harvest Festival - Sept. 17 & 18
What a great weekend to explore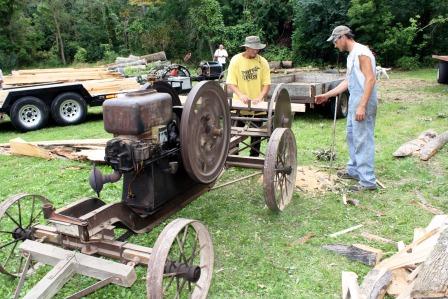 activities from long-ago days, enjoy good food, listen to live music and much more. Take a peek of what went on....Read More
*****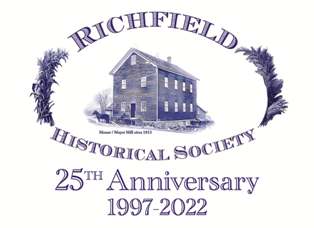 2022 Marks the 25th Anniversary of the Richfield Historical Society

Learn what RHS has done in its 25 years of existence. Throughout this year, the Society's accomplishments will be published. Check back often.....Click Here for Accomplishments
*****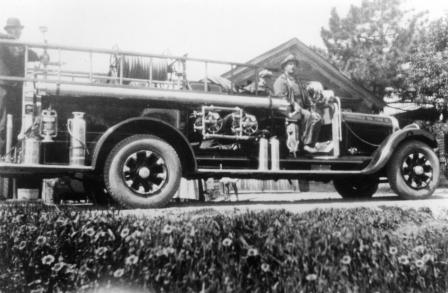 How Did Ed Stuesser Become Involved with the Richfield Volunteer Fire Company....Read More
*****
Visit the Richfield Historical Park Virtually
A great video has been made of the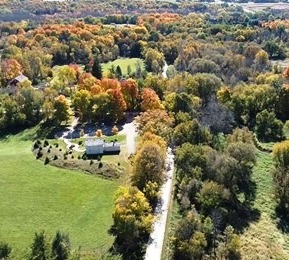 Richfield Historical Park featuring all of the buildings and the RHS events held in the Park. Click here to enjoy!!
*****
Weekly Highlights
Something About Richfield
Richfield Homestead Family: Komp. This article traces the Joseph Komp family from 1808 through 1880. Joseph Komp immigrated from Dreis near Trier, Rheinland Pfalz, Prussia to Richfield in 1852. One can only imagine what it was like then to leave his homeland, at age 44, with his wife, Maria Kristina, and children and cross the Atlantic to this unknown country!
One of the interesting aspects of the family's migration to Wisconsin was gleaned from the land records of Washington County. Through what appears to be a "German Connection", the initial 40 acres of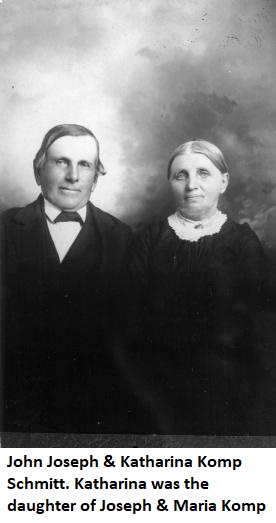 land was "purchased" for Joseph Komp, Assignee of Washington County, on June 5, 1851, for $2.96 - the amount due for nonpayment of taxes on the land. This is 11 months prior to their arrival in this country. In June 1852, Joseph purchased the adjoining 40 acres that would comprise the family farm. The Komp land was located near the corner of Pleasant Hill Rd. and the current Hwy 164.
Having fulfilled the requirement of at least five years residency in the United States, Joseph Komp filed his Declaration of Intent to become a citizen of the United States on April 13, 1860, in Washington County. However, no document can be found to verify the fact that he ever fully completed the process in that the Final Petition for Naturalization was never filed by him. This was not necessarily unusual in those years, the author of this article learned. His wife and their children were automatically included for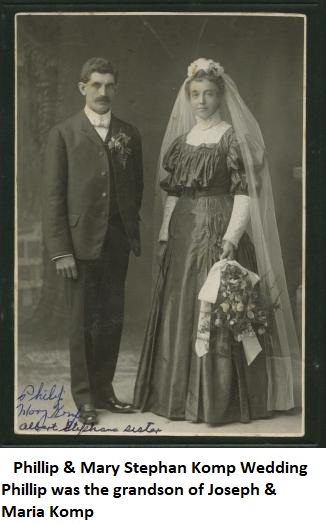 citizenship under the husband's petition and no separate records were required if the accompanying children were under the age of eighteen at the time they arrived in this country.
Joseph and Maria Kristina Komp resided on their family farm for 26 years until their deaths in 1878 and 1879. They are buried just a few miles from their home in the cemetery next to St. Hubert's Catholic Church. Five of their children, Katharina (married John Joseph Schmitt), Hermann, Johann, Peter Joseph and Peter lived out their lives in Wisconsin, while the three remaining children, Phillip, William and Mary relocated to Oregon.
*****
Something About the Park
The Mill House located in the Richfield Historical Park has a cellar.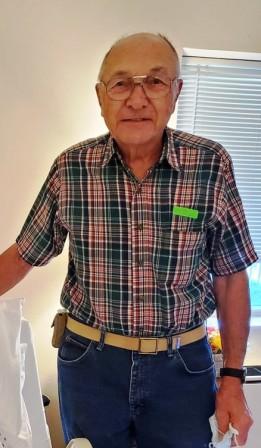 This cellar has stone walls and is very cool. It was used to store vegetables. Ralph Mayer, the last living grandson of C.W. Mayer (operator of the Messer/Mayer Mill), has memories of that cellar.
"I remember Dad (Edwin, the middle child of C.W. and Mary Mayer) raising lots of potatoes and successfully storing them in our basement until my folks installed a furnace in our house in 1946 following WWII. The furnace warmed our basement enough that potatoes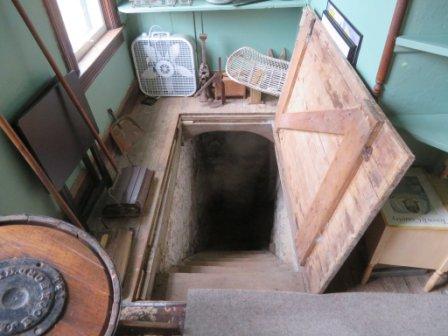 no longer kept well due to the warmer temperature. As a result, dad made an arrangement with Uncle George (Edwin's brother) to store some of them in the Mayer homestead arched stone cellar and part of them in the Adam Ebling arched brick cellar (2 miles east). Ralph's mother was an Ebling. Both those arched cellars maintained a cool temperature, good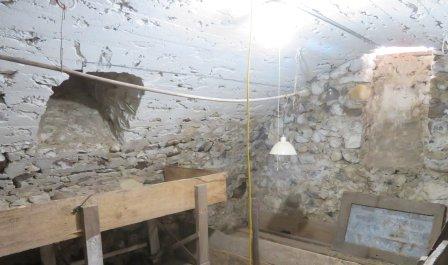 for potato storage. Then during the winter, Dad would retrieve the potatoes as needed for use or sale when he went to the Messer/Mayer Mill to get feed ground.
That arrangement worked well until 1953 when the barn on Dad's 2nd farm was struck by lightning and burned to the ground. Both Dad's potato planter and potato digger were made primarily of cast iron. With the extreme heat of the fire, both became puddles of cast iron. That put Dad out of the potato growing business.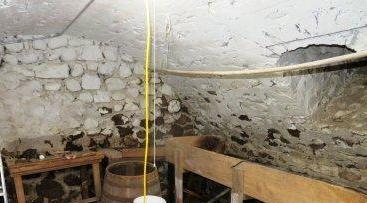 Both the stairs to the Mayer and Ebling arched cellars were very steep and a real challenge to carry 100# sacks of potatoes up and down.
As a kid I was only given limited access to the cellar in the Mayer house due to the steepness of the stairs."
Photos: Ralph Mayer, Mill House Cellar
*****
Past Features of RHS in Action