Projects in the Park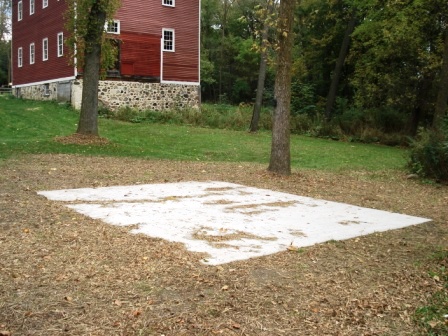 New Band Platform -- At some of the Society's events, musical entertainment is offered. In the past, a wooden platform served as the 'stage' for the musicians. However, age took its toil on this platform. A new one was needed. The Thursday crew created the form and the other prep work for a concrete stage. With the generous donation of cement from Zignego Ready Mix, musicians now have a solid level surface on which to share their talents.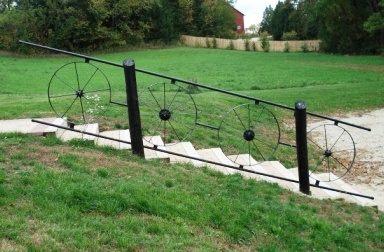 Hand Railing -- At the Lillicrapp Welcome Center, there are steps leading from the parking lot to the recognition walkway. A temporary hand railing was installed when the steps were built. However, a much more attractive railing was put in place using metal wagon wheels -- what could be more appropriate for a historical park. Two of the wheels were manufactured at the Holzbog Wagon and Carriage Factory in Jeffersonville, Indiana. This company was owned by a relative of a Society member who donated these wheels. The remaining two wheels were obtained from a local resident.
Barn Foundation -- The bank barn located behind the Mill House in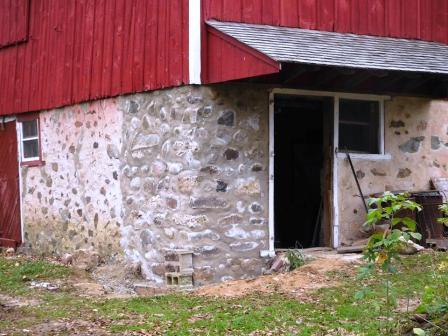 the Richfield Historical Park has a stone and mortar foundation. As with any building that is over 100 years old, it is showing its age -- particularly one corner of the foundation. Cement donated once again by Zignego Ready Mix was poured for the base. The next step was to rebuild the wall to make that portion of the barn foundation stable. Future plans are to have a farming exhibit in the basement of the barn. There is a wonderful exhibit on the ground level displaying farming implements and much more.
Thanks to the members of the Thurday crew for making these enhancements to the Richfield Historical Park.